I must admit, it was a bit tricky to think of a victory that was not scale related. My TOPS meeting this past Tuesday was for the sole purpose of celebrating the scale. I am proud that I came home with a few rewards.
My non-scale victory is only 2 days in the making. After my meeting on Tuesday, I was inspired to do better. I set myself a goal of getting in at least 10,000 steps a day.
Work-wise I am an office administrator in a not so busy office. I spend the majority of my days sitting. I decided to take a more "active" approach. Instead of taking 3 files at a time, I have been taking one and making 3 trips. It's a slow increase in steps but every little bit counts.
I made sure I had my IPod Nano all charged up and set to count steps first thing in the morning. I slipped it in my pocket and set about my day.
By the time I had a finished my "typical" day, which includes vacuuming, cooking, getting out pajamas for the kids, etc. my step count was about 6400. I would say that is pretty average for a day. It also meant that I still had about 3500 more steps to go to reach my goal.
Seeing that it's still hot and humid around here, I decided to dust off the treadmill and do my walk. I only really needed to do 20 minutes to get in the steps.
I'm not 100% confident of the accuracy of my I Pod when it's in my pocket, but I do know it's bang on if I hold it flat in my hand while walking.
By 7:45 tonight, here is how I made out:
I actually did about 200 more steps (at least) after I took it out of my pocket to charge.
I made a concerted effort to walk today. I got home early from work today. After folding some laundry and pacing the entire time I folded, I went to get the kids from daycare. Instead of taking the most direct, 5 minute route, I looped around the village for a good half hour walk. It was muggy and hot and royally sucked! However, it did mean I could just sit on my butt tonight and write this blog.
I really do hope to keep it up until next Tuesday.
This is my only change for the week. Often I try and make myself do it all, eat well and exercise and end up failing at both. Perhaps this approach will work better.
Having a non-scale victory also means I am joining the link up, come check out the other bloggers and get inspired!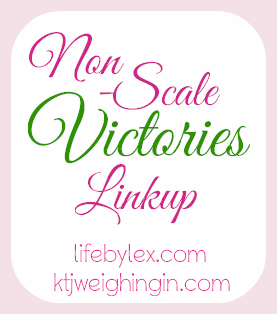 Until next time,