Welcome to my newest blog edition. A weekly post to recap my exercise for the week.
If you have been reading my blog, you will be able to see that over the past few months, I have been struggling. Losing and gaining the same few pounds over and over.
I decided this week that I need more motivation. My blog keeps me honest and that is good. However, aside from my regular Tuesday post (which to be truthful, has not been that regular on Tuesdays), there was not much else. So, I decided I needed to find some link ups. I came across 2 of them, one I linked up to yesterday, to celebrate your non-scale victories. The other one was a link up for Tuesdays, a Spring Training 5k Challenge, with the end result being a virtual 5k. You can check out the details by following the link below if you are interested.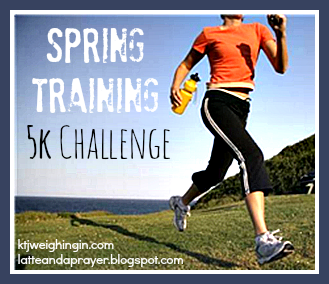 I have decided to not participate in this one for a couple reasons. I already have a Tuesday post, I'm not ready to start C25K again yet and the big one....while I enjoyed my stint at running, I never had the intention of running a 5K. No desire to do so, just wanted the self satisfaction of being able to physically run.

So, that being said, I decided to start my own fitness post. Feel free to join me if you like.

If nothing else, it will be purely honest and I want the same from you in your comments. Don't be all sugar coaty at say..."you will do better next week!" Nope, I wanna hear...."Are you shitting me? 24 hours in a day and you didn't manage to get in any exercise?!?!"
The irony of this first post is not lost on me.....I just finished a bowl of ice cream before I sat down to do this.

Here is my log of exercise for the week, drum roll please................................
Wait! Wait! It gets better...ask me how much screen time I have had this week...at least 21 hours! 21 hours of sitting on my ass!! I blame Netflix! Before Netflix, I could proudly boast that I only had 2 hours of Must-Watch TV.

I think it is just as important to log your exercise as it is for you to log your food. It can be quite at telling.

So one more time!
Exercise for the week of March 8 - 15th - 0
Starting tomorrow I WILL DO BETTER!