It's a good thing this link up is around. The scales have not been very impressive the past couple of weeks and are holding out at a stand still.
My NSV is maintaining and setting goals.
Last week, if you will recall, I set myself a goal of 10,000 steps a day.
KEPT IT and ROCKED IT!
In addition to that one, this week I am also going to log food for the week.
You already know all of this if you read my blog yesterday.
The food journalling will be the tough one for me, but I KNOW it also produces results. But I dusted off my Lose It account and started logging. Here was yesterday's results:
Daily Summary for Wed, Jul 3rd
for Amy Bickmore
Calorie Summary

Daily calorie budget
1,588
Food calories consumed
1,770
Exercise calories burned
97
Net calories for the day
1,673
+/- for the day
85 over budget

Weight Summary

lbs.

Goal Weight
150
Start Weight
275
Today's Weight
243.3
Lost So Far
31.8
Daily Log

Calories

Breakfast
293
Pancakes, Homemade, 4"
2 Each
173
Butter, Salted
0.666 Tablespoon
68
Syrup, maple
1 Tablespoon
52
Lunch
492
Bar, Granola, Chocolate Chip, Hard
1 Each
105
Cherries, Sweet
1 Cup
97
Sandwich, Ham, 6"
1 Each
290
Dinner
488
Honey garlic sausage
1.5 Servings
345
Nutrient data missing for: Fiber, Sugars, Chol., Sat. Fat., Sodium, Fat, Carbs, Protein
Potatoes, Red, Baby, Cooked
0.5 Cup
76
Butter, Salted
0.666 Tablespoon
68
Snacks
498
Cupcake, Chocolate, Mini, w/ Choc Buttercreme
1 Each
97
Cookie, Chocolate Chip, Soft
2 Each
136
Licorice, Cherry
2 Sticks
65
Moosetracks Ice Cream
0.5 Cup
200
Nutrient data missing for: Fiber, Sugars, Chol., Sat. Fat., Sodium, Fat, Carbs, Protein
Exercises
97
Walking
3 mph, moderate
20 Min
97
I am sick and tired of not showing any progress. My lack of progress is simply because I have not put in the effort. I am not committed to sweating yet though. I will build up to that.
I did find a great new
blog
. I was hooked when I was reading some older post and success stories and they asked the question about having any loose skin after loosing weight. Honestly, this is the one question I want to ask EVERYONE that looses a lot of weight, but it's probably kind of rude. I search high and low to find ways to avoid it, but I feel it will probably be a necessary evil. Still not sure how I feel about it, but I can't let that stop me. Spandex was created for a reason right?
Follow me and others over at the link up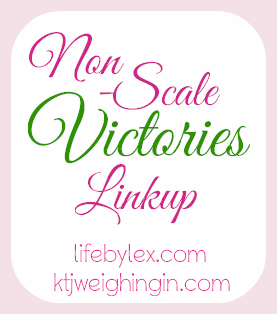 Until next time,